Automotive EV / AV Development
With in-house resources for hardware, software, and system development, Ettractive is the partner for full-vehicle integration programs. Whether repower or new construction, Ettractive supports the development of durable, safe electric vehicles.
Innovate. Create. Repeat.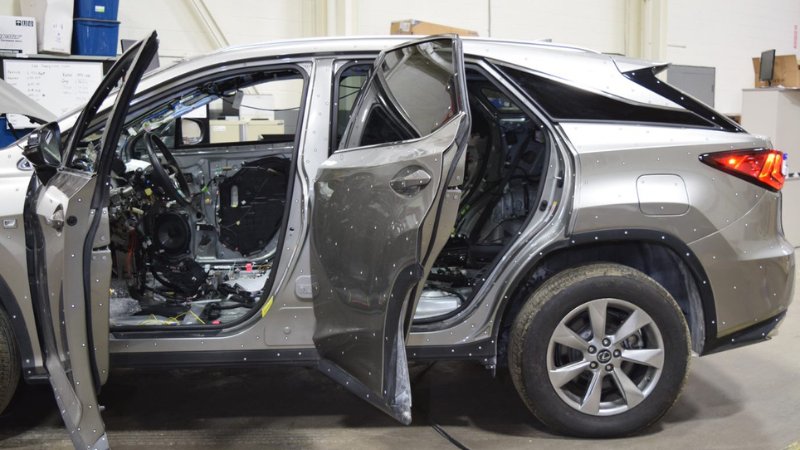 Example: Passenger Car EV / AV
Ettractive supports the complete integration of EV and AV systems. For a NEW prototype vehicle, Ettractive has integrated numerous new systems including the EV powertrain, lighting, body control and autonomous driving systems. Managing CAN, LIN and automotive ethernet, Ettractive has developed unique control and capability for the vehicle on road and in the cabin.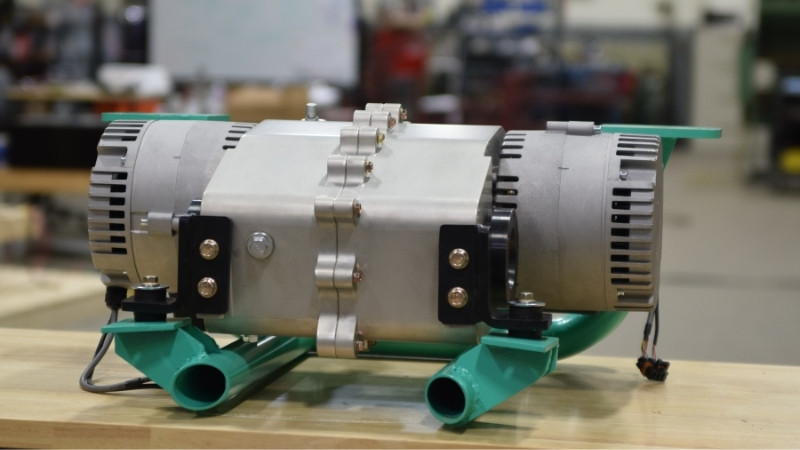 Example: Low-Cost Micromobility
The drive unit above is an example of a bespoke product developed by Ettractive. This drive unit features 2 low-cost, 48v motors and a unique torque-vectoring gearbox. This gearbox provides an opportunity for implementing advanced traction control on low-cost hardware and is purpose-built for emerging EV markets. The drive unit is in an isolated mounting within a vehicle subframe offering ease-of-service without access to a vehicle hoist.
Automotive Product Development
Whether electric or conventionally-powered, every vehicle and aftermarket component is an automotive product. With a wide knowledge-base, Ettractive supports all automotive product development programs, no matter the powertrain.
Automotive System Integration
To integrate systems with speed and efficiency, it takes system and vehicle-level experience which can be hard to find. With our roots in automotive systems like thermal management for high-performance gas vehicles, Ettractive has the vehicle level understanding of synergies and interactions to shave months off of your development programs.
Charging and Power Conversion
Some unique programs require unique hardware and software. Ettractive works with partners in the development of bespoke automotive hardware and charging systems. From high-powered DC/DC converters for vehicle-to-vehicle DCFC charging or custom vehicle-to-grid (V2G) applications, working with Ettractive expands beyond just integration.
Testing and Development
With experience instrumenting electric and ICE-powered vehicles, Ettractive can support your testing and benchmarking activity. From thermocouples, to flowmeters, to HV analysis, Ettractive can help you learn about your system.
EV Motorsport
There's more to automotive development than experience and spreadsheets. Exceptional product development takes passion. Motorsport is a passion for Ettractive, with team members competing in club-level endurance and time attack racing every year. Ettractive is here to develop unique product and systems for the future of electrified motorsport.
Innovate. Create. Repeat.
Example: EV Drive Unit for Club Racing Car
Ettractive partner Scalar Performance (SCALAR PERFORMANCE) is bringing the first fully-electrified club racing car to market in 2022. Ettractive's fully-bespoke drive unit couples an 800v powertrain to the rear wheels of the car via a unique gear reduction and limited-slip differential. Only through the custom development of this part was Scalar Performance capable of opening up the complete tunnel for battery packaging and preserving the rear suspension of the OEM vehicle. See the vehicle unveil Nov 1st at SEMA 2022.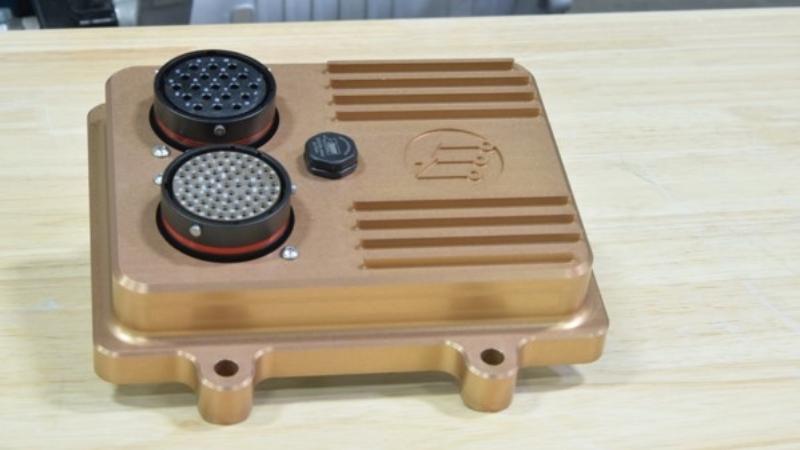 Example: Hardware for Software
Cutting-edge software needs somewhere to live. To solve this problem, Ettractive has launched a motorsport-focused VCU (Vehicle Control Unit). This product supports the development and deployment of bespoke controls for motorsport applications. The machined aluminum housing and Deutsch Autosport connectors meet the requirements of our customers and racing teams at all levels of motorsport. Data can be encrypted and transmitted through advanced features like Wi-Fi, Bluetooth, GNSS and LTE connectivity.
Drivetrain
There is no one-size-fits-all solution in motorsport. While teams compete to find tenths and hundredths of seconds in lap time, an off-the-shelf solution will not make the grade. Ettractive can support all levels of motorsport, developing and integrating solutions that extract every bit of performance, incorporating advanced materials, thorough testing, and efficient power conversion and control strategies.
Off-Road, Overland, and Rally
As customers start to push the limits of electrified and hybrid vehicles in the world of off-roading and overlanding, Ettractive is here to support a new realm of electrified equipment. Ettractive supports the development and testing of components and systems to meet the targets of companies working in the off-road, overland, and rally car markets.
Aftermarket
Visit Ettractive at Booth #20761 in the Central building of SEMA 2022. Ettractive is here to meet and connect with aftermarket companies considering their move into the electrified market. With the ability to work with a wide range of budgets, Ettractive can provide the consulting and development needed to bring your first high-voltage devices to market.
Bespoke Motorsport Electrification
COMING SOON. While the primary focus of Ettractive's headquarters is the support of new product hardware, software and controls, Ettractive is seeking partners and customers for the next wave of EV race cars and bikes. Ettractive will announce a new track-side location in 2023 to focus on high-end and motorsport electrification. Contact Ettractive for more details.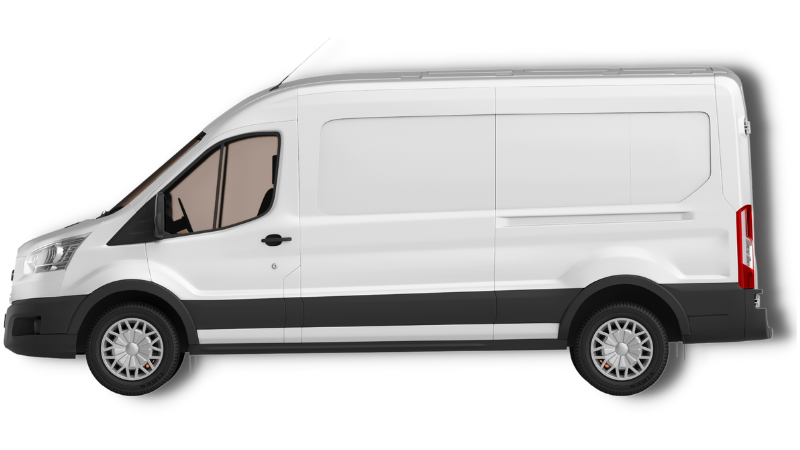 Commercial and Fleet Vehicles
Commercial and fleet vehicles are where Ettractive got started, years before bespoke EVs were mainstream. Amortizing engineering and development amongst even small fleets can provide excellent payback for operators. With high investments in vocational equipment, a bespoke EV solution can be the best way to reduce fuel costs and emissions.
Commercial Powertrain
The duty cycles and performance targets for trucks are very different than passenger cars. Working with Ettractive, our customers get the best value powertrains that actually meet the requirements of the trucking industry
ADAS/AV
Fleet owners know the costs associated with on-road incidents, and the industry is responding by seeking advances in ADAS technology. Ettractive supports ADAS and autonomous development with hardware, controls and integrated development projects.
Chassis
Achieving diesel-equivalent performance in EVs can be aided with modifications to vehicle chassis and body systems. Ettactive works with each customer's feedback to develop the best solution for their application or product.
Durability
Durability is the name of the game in fleet operation and Ettractive recognizes the parts, engineering and processes needed to maintain fleet uptime and minimize diagnostic challenges. Ettractive constructs validation plans around real world usage, customer data and the budgets of our customers.
Start Your EV Project
Open and close the book on complete projects with Ettractive. Hardware and software are designed, build and produced at scale for your program.
Electrified Powertrain
Drive unit, gearbox, driveline and transmission.
ADAS/AV
Software and hardware development for modern ADAS systems and self-driving.
Integration & Conversion
Design, build, test and scale your project.
Electrified Systems
Hardware and software for new EV systems – HVAC, thermal management, battery, PTO, etc.
Contact Form
Please complete the form below and a member of the Ettractive team will be in touch.